Welcome to MySignals Community RF Sensing
MySignals develops a Community RF Sensing for Cellular Mobile Networks, utilizing users' mobiles as sensors. Thus, detailed Mobile Coverage Maps are created by user themselves, therefore, the public can determine the best Network Carrier. Moreover, the whole Community RF Sensing concept and the detailed acquired real world measurements offers diverse research and network engineering applications. In summary, MySignals offers:
Social, Informational and Educational Tool
A Mobile Coverage Map by users themselves.
Users can determine the Mobile network coverage-quality and understand basic principles about cellular mobile telephony.
A Scientific, Engineering and Research Tool
The vast amount of the collected measurements offers high research potentials (e.g. GSM base station localization).
Specific regions with poor signal can be discovered. Thus, network carriers are able to schedule the appropriate network upgrades.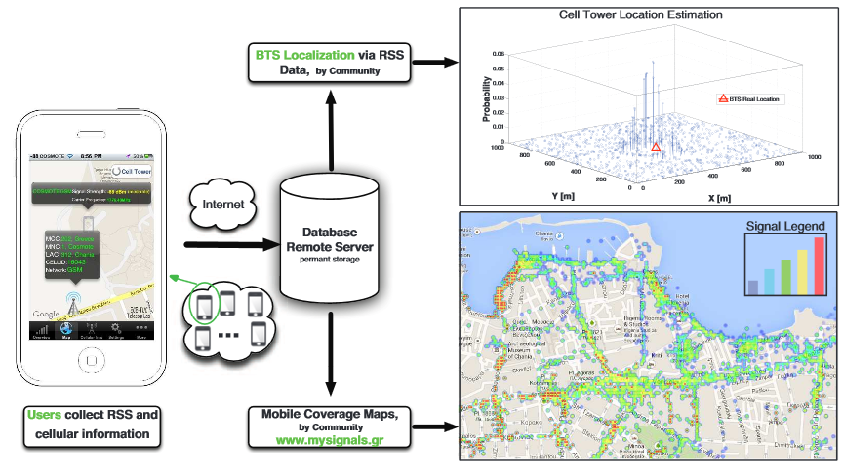 Moreover, MySignals collected measurements are utilized for developing GSM Base station discovery algorithms. Thus, we are able to demonstrate in large scale the necessity of a dense cell tower network in order to enhance the public awareness of cellular mobile telephony. The introduction of an extreme dense cell tower network will result in the reduction of the radiation power of the users' mobiles, since all the distances will be short. This is an essential principle which is not widely known.